【Assabu】Yamamoto Family's Experience
Winter experience follows.
"Hello! I'm Masaya Yamamoto. In July of this year, my family and I stayed in Assabu Town, Hokkaido for a Preschool Exchange for three weeks. We are a family of three, with my Korean wife and our 2-year-old daughter. We took a late-night ferry from Oarai Port in Ibaraki Prefecture to Hokkaido with our car. We arrived in Assabu Town via Tomakomai Port and Lake Toya.
We decided to visit because our daughter turned 2 years old, and her language skills and interests were rapidly expanding. Despite the current circumstances, we wanted to give her more varied experiences and show her different sceneries. So, we thought, why not go all out and let her experience everything?
Life at Hazeru Childcare Center
Going to Hazeru Childcare Center turned out to be a great decision. We felt that way from the very first day of our stay. Although our daughter cried shortly after we left her on the first morning, according to the communication notebook app called Kidsly (a childcare service provided by Hazeru), she had extra servings of snacks and lunch, played in the playground, participated in water play, and had a good nap.
She also enjoyed harvesting zucchinis and cucumbers from the vegetable garden in the schoolyard and fully embraced the experience. It made us feel relieved and a bit envious as parents. We looked forward to seeing her daily activities with excitement.
The facilities were fantastic, and the teachers were incredibly caring and dedicated. We were grateful for their attention and the refreshing attitude of everyone involved in the operation of the preschool. We had a wide range of experiences, from swimming in the pool to trying bouldering. Our daughter enjoyed every moment, and as parents, it brought us great joy. There is a large park right next to the preschool, so we could have plenty of fun there after picking her up.
Coincidentally, our daughter's birthday fell during our stay. The preschool had a monthly event to celebrate the children's birthdays, and she happened to have her event on her actual birthday. She received a large medal on stage and came home with it, looking delighted. We are grateful to the teachers who put in various efforts to ensure that the children have a great time. We think the nursery school study abroad program was the best birthday present for her.
Weekend activities
During the weekends, we had many enjoyable experiences. On our first day off, we visited the vegetable garden. Our daughter, who loves blueberries, was thrilled to pick and eat them. She ate over 100 blueberries with enthusiasm.
On that day, we also dug up Mayqueen potatoes, which originated in Assabu Town, harvested upright asparagus, and visited a cultivation site of Ezo Maitake mushrooms. In the evening, we sautéed the Ezo Maitake mushrooms we received as a souvenir, and they were incredibly delicious! Honestly, it was our first time tasting such delicious mushrooms. We realized that Assabu Town has many attractions besides Mayqueen potatoes. It was a constant discovery.
On the second day of the weekend, we attended a local cuisine cooking class in Assabu Town. The menu was special Mayqueen potato rice balls and Hikariguro (a variety of black soybeans) chirashi sushi. Our daughter boiled and mashed the Mayqueen potatoes she had harvested from the field, cooled them, mixed them with potato starch, and made rice balls. We also made a delicious soup with flat-shaped roasted rice cakes. Our daughter enjoyed it so much, and it was rewarding to see her eat what she had made.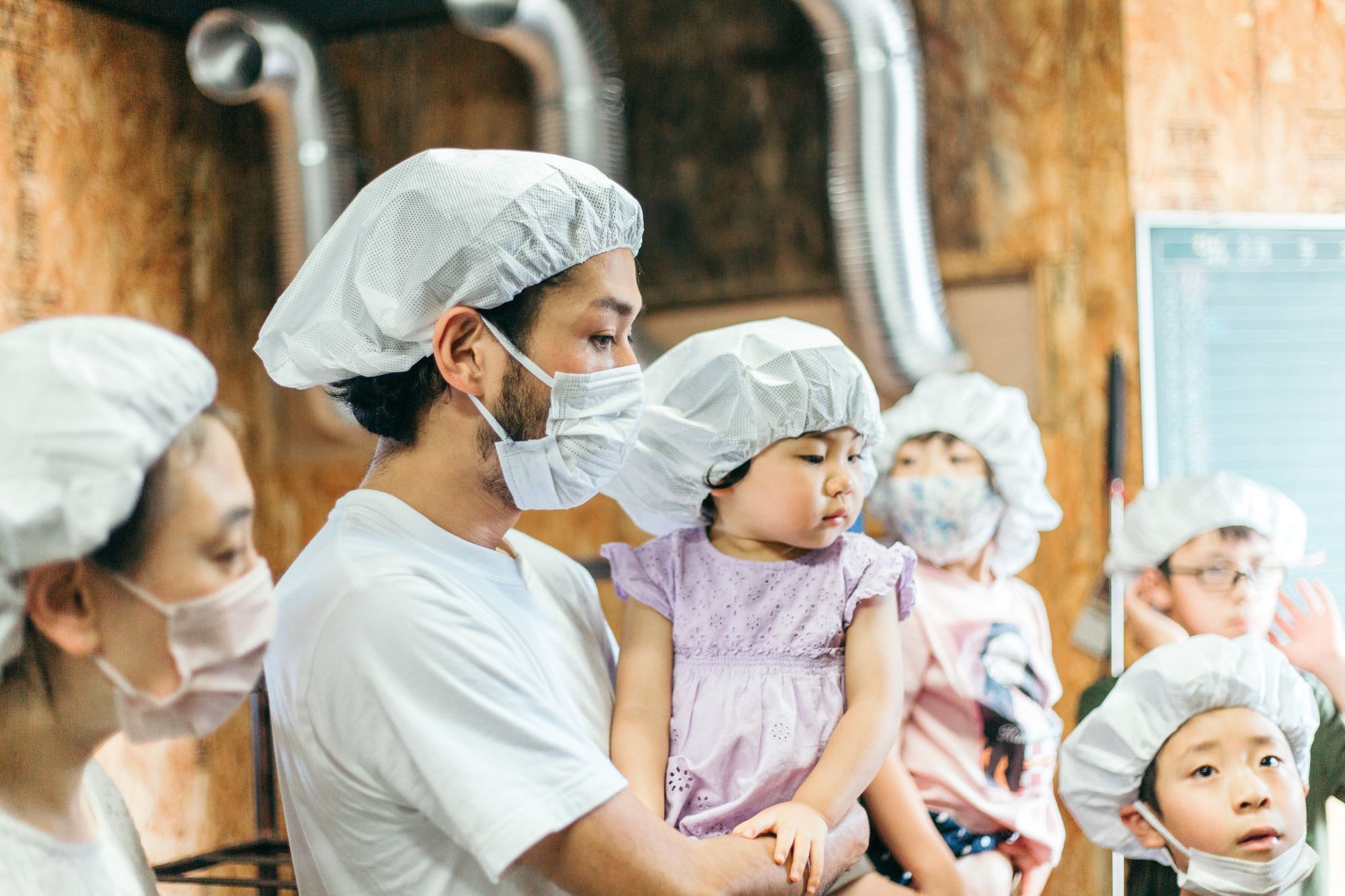 In Assabu Town, you can experience various local food activities depending on the season.
Since we were provided with bicycles, we went cycling in the morning. As soon as we left our house, we were surrounded by rice fields. Just riding through the fields awakened our senses. Assabu Town is not located in a basin, but it is surrounded by densely forested mountains, making the distant views incredibly beautiful wherever you look.
In addition, we were guided by local residents to places where we could feel nature and history, such as the water source area deep in the mountains, which takes about 30 minutes from the center of Assabu Town, and the neighboring coastal town of Esashi. Assabu Town is truly a charming place.
The program allowed us to fully immerse ourselves in the life of Assabu Town and its community, making it an incredibly enriching experience for our entire family.
Comfortable working environment
As a working couple, we had concerns about whether we could manage our work responsibilities while visiting Assabu Town. However, with the help and support of the people in Assabu Town, we carefully confirmed that all the necessary facilities were available. First, the accommodation at "Chotto Kurashi Jutaku(Temprary Living House)," provided by the Lovely Village Creation Corporation, was extremely comfortable.
Right next to Chotto Kurashi Jutaku, there was a facility called the "Resettlement Exchange Center" where I worked remotely, while my wife worked at the accommodation. We had no issues with Wi-Fi, and it even seemed faster than in the city. Working in the midst of nature, ideas flowed, and as parents, seeing our daughter enjoying herself added to our sense of fulfillment. It felt like our productivity increased.
Our routine was to drop our daughter off at the nursery school by 9 a.m. and pick her up by 5 p.m. It was only a 5-minute drive from Chotto Kurashi to Hazeru, so it was very convenient. Through the exchange program, we realized that it was the best way for our family to blend into the life of Assabu Town, allowing us to manage both our daughter's experience and our work.
Local food
After dropping off our daughter at the nursery school, our daily routine included shopping for groceries at the Michi-no-Eki (Roadside Station Market). We mainly cooked our meals, both for lunch and dinner. Since the supermarkets were not open at 9 a.m., we enjoyed visiting Michi-no-Eki, where we could learn more about Assabu Town. We made a point of buying fresh local produce with the names of the farmers known. Going to Michi-no-Eki early in the morning, we could see them in the midst of stocking the shelves, which felt like a vibrant market every day.
Assabu Town has various local specialty products besides Mayqueen potatoes. One of them is "Hikariguro," large black soybean with a shiny surface. We brought them along with Mayqueen potatoes to the hometown food experience held in January, and the participants were extremely delighted. While working, I enjoyed munching on black soybean-sweetened azuki beans and drinking black soybean tea. In the evening, we ate black soybean natto. It was a daily menu full of "Hikariguro."
How we felt as a family
From the perspective of our family, the Preschool exchange program allowed us to have a fulfilling daily life during our short three-week stay. Assabu Town, which we became acquainted with through the hometown food experience, became an unexpected connection for us. It was an even richer experience that combined aspects of food education, travel, trial living, and working vacation(workation). We owe it all to the people of Assabu Town and our daughter, who enjoyed the experience. We truly believe that the nursery school study abroad program is the best way for families to integrate into the life of Assabu Town.
We heard that Assabu Town has wonderful landscapes and crops throughout the year, not just in summer. We hope to stay there again in a different season. In autumn, there are rumors that "Sagara Maron," a premium pumpkin with a perfect balance of sweetness and rich flavor, can be harvested. Our daughter loves pumpkins, so we are already aiming to taste it. We want to continue our involvement with Assabu Town for a long time. We hope that many families raising children will have a rich and fulfilling experience through the exchange program in Assabu Town."
Winter Experience
map