Higashi-kagawa City, Kagawa - Japan Preschool Exchange
DESTINATION
ABOUT THE PLACE Higashi-kagawa City, Kagawa "In a pleasant sunny place, energetically playing"
From Haneda Airport to Tokushima Airport, it takes approximately 1 hour and 15 minutes on a domestic flight. From there, it's a 20-minute drive to the city of Tokushima in East Kagawa.
East Kagawa is a place blessed with abundant nature, with both mountains and the sea nearby. You can enjoy stargazing and moonlight baths at night, as well as activities like cycling and hiking during the day.
The breakwater at Iruta Fishing Port is adorned with various art pieces, and the pier features magnificent artworks that span over 200 meters. The town is steeped in historical charm, offering a unique coastal natural experience and the chance to encounter enchanting art pieces. In East Kagawa, you'll find plenty of small delights to enjoy.
ABOUT PRESCHOOL Hiketa Preschool
In the spacious and well-ventilated garden, children can engage in various activities such as stilt walking and riding unicycles. These activities extend beyond the daycare center and include interactions with elementary schools and members of the community. Additionally, children can participate in experiences ranging from harvesting vegetables to cooking.
Hiketa Preschool Website (Japanese page)
Raising children with many friends and lots of smiles Welcome to "Hiketa Preschool" - New childcare and lifestyle -
Children's Time Nurturing Hearts Through Rich Interactions
We would like to introduce you to the special time spent at "Hiketa Preschool" during a period of 1-2 weeks, where children have the opportunity to foster their hearts through rich interactions.
Learning
Hiketa Preschool places great importance on nurturing children's ability to "express their thoughts in words." Teachers carefully listen to each child, considering their development, interests, and concerns. Even if a child seeks help with something, teachers ask them what they would like to do, encouraging them to think and try on their own first, thereby helping them develop the capability to tackle challenges and problem-solve independently.
Play
Children, regardless of their age, enjoy moving their bodies to their heart's content in the abundant natural surroundings. In the kindergarten's playground, where children can energetically play and have fun, they are often seen riding unicycles with their friends and teachers, leaving a lasting impression. Indoors, they engage in rhythm games and gymnastics, showcasing their active and lively nature. This is a testament to the spirited nature of the children at Hiketa Kindergarten.
A Day at the Preschool
Hiketa Kindergarten is all about playing to the fullest in the morning and then spending a leisurely afternoon. Let's highlight the active morning activities at the kindergarten.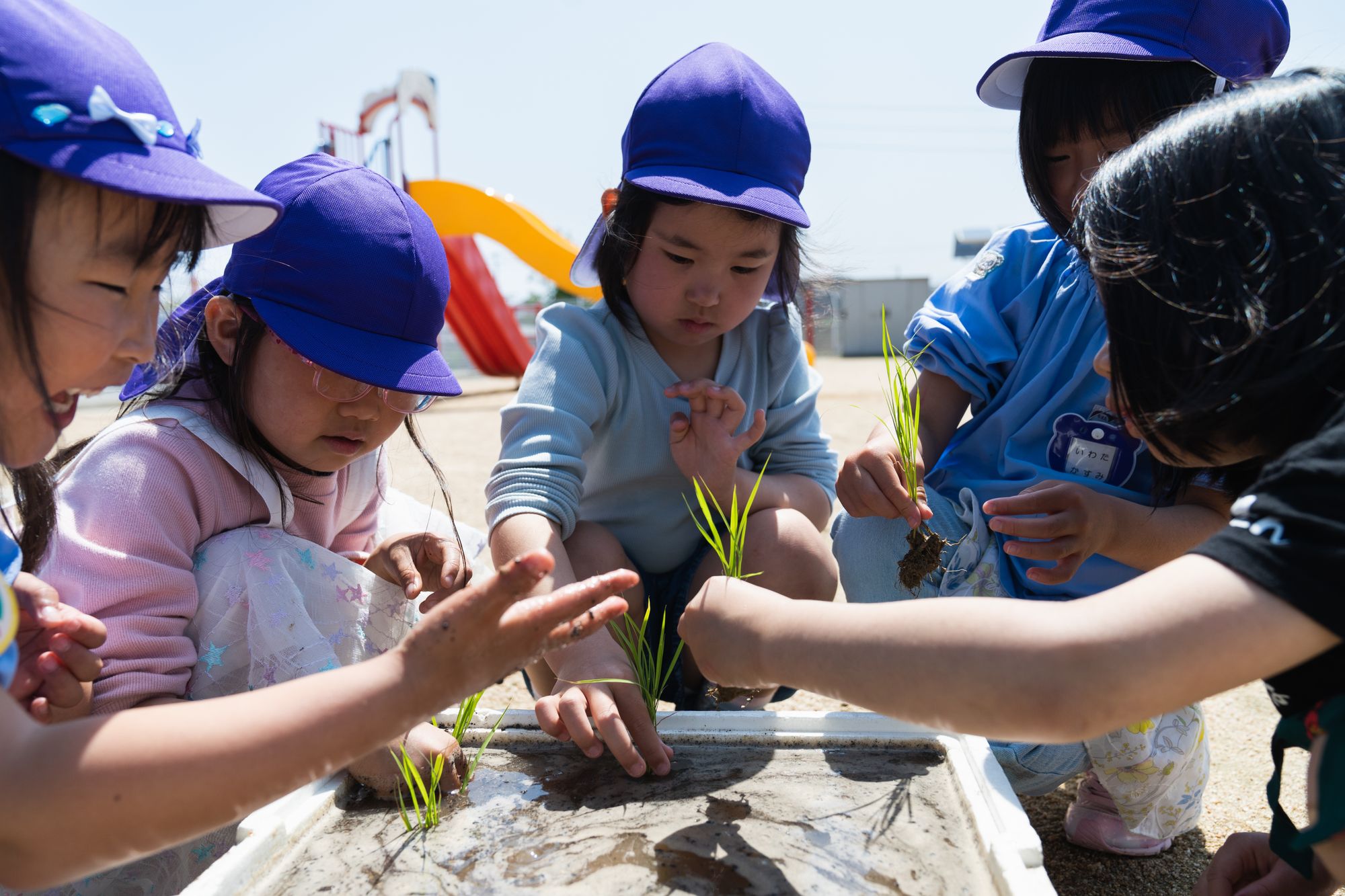 Walking through the Elementary School via a School Route
As children head out for off-site childcare, they catch a glimpse of the adjacent elementary school on the kindergarten premises. The kindergarten and the elementary school collaborate, fostering interactions between kindergarten students and their older elementary school "big brothers" and "big sisters."
Playing According to Individual Desires
According to the season, age, and children's feelings, they engage in activities such as planting vegetable seedlings in the kindergarten's small garden, harvesting, and even cooking. They might use the plums harvested by everyone to make plum juice.
Meeting Many People and Animals
Children participate in volunteer-led storytelling sessions and local events, interacting with the townspeople. They also learn how to care for living creatures by raising medaka fish and exploring their interactions with animals, whether at the local "Shirotori Zoo" or on the coast.
The Path to Becoming a Mealtime Expert
During mealtime, children learn about the menu and serving positions through illustrations on the "serving chart." Every day, the entire class engages in a greeting of "Itadakimasu" to enjoy their meals happily and deliciously.
Family Time in the Community Close to the Sea and Mountains, Embraced by Nature
For Japan Preschool Exchange, there are attractive "places to live" for your family and "places to work" for parents. Let us introduce you to the stay environment in Higashikagawa, where you can enjoy the proximity of the sea and mountains and be embraced by nature.
Living
There is a guesthouse called "Amimanbos," designed in the style of a traditional Japanese inn, located about a 5-minute drive from the preschool, offering accommodation. Situated in a serene area nestled between the calm Seto Inland Sea and Ando Pond, you can forget the daily hustle and bustle and enjoy a tranquil stay. The guesthouse provides individual rooms with bedrooms, traditional Japanese tatami rooms, and spacious verandas with ocean views. Complimentary rental of daily necessities and bicycles is available for your convenience.
Amymonbos (Japanese page)
Working
The workspace includes a private room with Wi-Fi, and on the first floor, there is a combined workspace and library for work. You can use this space until 9:00 PM, and on the same floor, there is a lounge area with complimentary drinks and a kitchen space. It's an open and spacious environment with ample natural light streaming in through large windows, allowing you to work while taking breaks as needed.
Experiencing Life in Higashikagawa
We'd like to introduce you to unique aspects of life in Higashikagawa, including information about local workspaces, shopping, and recommended ways to spend memorable holidays.
ZOO-cation
Experience a "freedom-filled" work environment at the zoo, where you can rent mobile desks and chairs and work in your favorite location, perhaps even conducting web meetings with animals as your backdrop! For more information about Shirotori Zoo,
click here
.
"Create Your Own Fishing" Experience Facility
Located at Ando Pond, the birthplace of farmed yellowtail, this facility allows you to feed farmed yellowtail and go fishing. It offers educational facilities and a museum where you can learn about Hamachi (yellowtail) farming, including insights into Kazumisaburo Noami, a Hamachi farming pioneer from Hiketa. For more information about Marerikko,
click here
.
Visiting a National Natural Monument
Explore the geological wonder of the Lamplophya Rock Formation, renowned for its white kanko rocks with black lamprophyre veins, creating distinctive black and white stripes. It's a geological marvel that's rare and unique on a global scale. For more information about the Lamplophya Rock Formation,
click here
.