Toyama City, Toyama - Japan Preschool Exchange
DESTINATION
ABOUT THE PLACE Toyama City, Toyama
Toyama City is conveniently accessible from the Tokyo metropolitan area, just a 2-hour Shinkansen ride or a 1-hour flight away. As one of the leading cities on the Japan Sea side, Toyama City boasts a combination of various industries, urban functions, diverse cultures, and a rich history.
Furthermore, as the capital of the prefecture, Toyama City holds the distinction of having the second-largest city area in the country. Its landscape ranges from the deep waters of Toyama Bay, with depths of up to 1,000 meters, to the towering Northern Alps, specifically the Tateyama mountain range, with peaks exceeding 3,000 meters. This diverse topography is complemented by its majestic natural beauty.

ABOUT PRESCHOOL Kamidaki Preschool
A distinctive feature is the incorporation of Montessori education in indoor activities. When it comes to outdoor play, children can enjoy a variety of activities, including insect collecting and hiking in the summer, and snow play and sledding in the winter.
Kamidaki Preschool Official Website (Japanese)
Thoughts on Japan Preschool Exchange MESSAGE
Toyama Prefecture, boasting diverse landscapes and magnificent nature, is a truly remarkable place. The Tateyama Mountain Range, which changes its appearance with each season, offers breathtaking views every day. Children who attend the nursery here say they absolutely love this morning scenery.
When you ask families raising children about the charms of living in this town, they have plenty to recommend. We have beautiful snowmelt water from the mountains, rice, and vegetables. Toyama Bay, known as a "treasure trove of seafood," provides us with seafood that is always fresh.
Above all, the community here is incredibly supportive of families and child-rearing.
In Toyama City, which prides itself on its child-rearing environment, we have the certified childcare center "Kamitaki Nursery," where the concept of preschool study abroad has begun.
With a long history and deep community roots, we welcome children in this naturally rich area. We look forward to your applications.

Japan Preschool Exchange in Toyama FEATURE
In Toyama Prefecture, we value living vibrantly and authentically, including "true happiness" and well-being for the entire community. This encompasses not only relationships with others but also connections with the local society. We prioritize the ability to live with a sense of fulfillment, nurturing subjective well-being.
Enjoy the Toyama lifestyle where children can play and grow freely, and where families can all lead healthy lives together.
Turning "I want to try it" into reality, Nurturing the five senses. The Allure of Kamidaki Preschool
At Kamidaki Preschool, the children's senses are nurtured through a variety of experiences. Rain or shine, on snowy days or clear days, they venture out to the playground every day.
The preschool is surrounded by nature at the foot of the mountains, providing ample opportunities for exploration. Children express their curiosity to the fullest while playing.
Experience the Great Outdoors with Each Changing Season!
The Allure of Kamdaki Preschool
At Kamidaki Preschool, one distinctive feature is the seasonal activities held at the lush National Tateyama Youth Nature House. Summer brings insect collecting and mountain climbing, while winter offers snow play and sledding.
With the collaboration of caregivers and Nature House staff, a unique nature experience program tailored to Kamidaki Preschool is designed. Amidst the great outdoors, children wholeheartedly engage in large-scale, seasonal activities, becoming fully immersed in the experience.
Through Kamidaki Preschools exclusive nature program, the children develop a profound connection with nature by exploring its scents, textures, and sounds. This sensory-rich environment cultivates a heightened sensitivity to the world around them.

Age Knows No Bounds, Nurturing Individuality,
Vertical Grouping at Kamidaki Preschool.
We prioritize drawing out the thoughts of children rather than instructing them with adult perspectives.
By embracing a vertical grouping approach that eliminates age barriers, Kamidaki Preschool creates an environment where younger and older children interact within the same group.
This methodology fosters a mutual admiration between the younger and older children. Younger ones look up to their older peers, while older ones naturally develop a sense of caring for the younger ones.
Moreover, multiple teachers individually engage with each child, observing them from various perspectives.
At Kamidaki Preschool, we value the importance of allowing children's own thoughts to flourish. Through the vertical grouping that transcends age boundaries, a dynamic where admiration and empathy thrive between different age groups is established. Teachers take a multi-faceted approach to understanding each child's needs and viewpoints.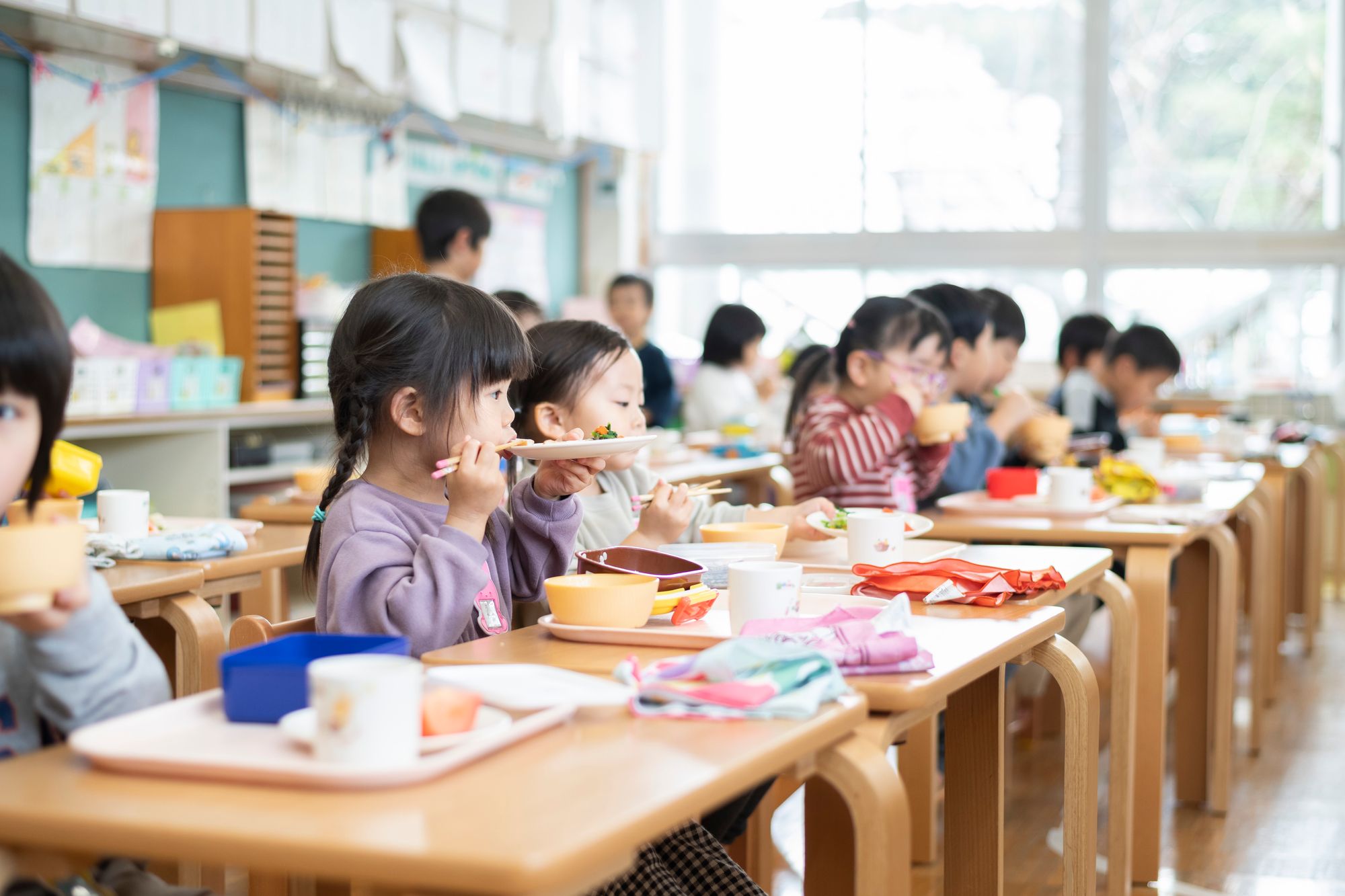 A Thoughtfully Crafted Menu for Everyone to Share,

Inclusive Nutrition that Doesn't Leave Allergic Children Behind.
At Kamidaki Preschool, consideration for children with allergies extends to uniquely adapting the municipally designated school meals. This custom arrangement aims to achieve food inclusivity for all.
Whether a child has allergies or not, everyone can experience the joy of sharing the same meal. The most remarkable point of pride lies in the high level of culinary expertise. Substituting ingredients like soy milk and rice flour is done so skillfully that the difference is hardly noticeable!
Delicious to eat. Sharing a meal together makes it even more enjoyable and satisfying. The commitment to food at Kamidaki Preschool stems from the bountiful food culture of Toyama, ensuring that the delight of eating is a shared experience for all.
Living During Your Stay FEATURE
From the Moment You Arrive, An Enriching Environment with All Necessities Ready, Comprehensive Accommodations.
The lodging facility "Locomotion" where you will stay is thoughtfully equipped for short to medium-term stays.
Everything you need for daily life is essentially provided, and the facility also offers amenities like a coin laundry and sports facilities where children can play.
Given that there are local markets, a pharmacy, and medical facilities concentrated in the area, even if it's your first time, you can comfortably live with peace of mind.
Accommodation Website (Japanese page)
Imaginative Co-working in the Mountains
A Remote Work Environment.
KOTELO, a space renovated from an old elementary school, offers an inspiring co-working environment. Situated amidst nature, it allows you to work with focus while staying relaxed.
Beyond the co-working space, KOTELO features a library and private rooms, enabling you to switch up your work environment based on your mood.
Moreover, connecting with KOTELO's staff and local residents opens up opportunities to deeply understand the region. Feel free to inquire about recommended spots and delicious restaurants in Toyama.
KOTELO's official Website (Japanese page)
Explore the Bountiful Nature of Tateyama, Just 30 Minutes Away. Engage in Local Activities.
At the base of the Tateyama mountain range, where stunning panoramic views change with the seasons, numerous activities await to be enjoyed in nature all year round.
Awasuno Ski Resort features a Kids' Park, perfect for snow play. Adults can relish exhilarating rides on natural powder snow.
Spring offers mountain vegetable foraging, summer presents insect collecting and camping, and autumn unveils trekking amidst vibrant foliage. You can even interact with goats that help maintain the ski resort by grazing during the season.
Immerse yourself in the local activities and the splendid nature that Tateyama has to offer, all within just 30 minutes' reach.
Fresh and Vibrant Ingredients, A Part of Your Daily Table,
Life in Toyama City.
In Toyama, where life and nature coexist closely, an abundance of rich ingredients is readily available.
Right near the accommodation, you'll find local farmers' markets selling fresh vegetables. With ingredients harvested by dedicated farmers, explore the unique dishes that Toyama has to offer.
The popular local bakery "Panda panda" is also nearby. If you head towards the sea, you'll encounter the "kito kito" seafood freshly caught from Toyama Bay.
Enjoy the bountiful produce and culinary delights that Toyama has to offer, and experience the connection between daily life and the abundant natural surroundings.
APPLICATION & INQUIRIES
Please feel free to contact us by filling out the form for any inquiries or applications you may have. We are here to assist you.