Ueda city, Nagano - Japan Preschool Exchange
ABOUT
Japan Preschool Exchange is an exchange program that connects your families to Japanese local communities
With our Japan Preschool Exchange, your family has an opportunity to stay in a region in Japan for app. 1-3 weeks while your children attend local preschool. Our program allows your family to immerse in the daily life of Japan experiencing a "living" local life that goes beyond typical tourism.
For your child, this program provides a chance to explore the great outdoors during their early years and grow up in a nurturing environment, both physically and mentally. For parents, it offers a range of possibilities, allowing them to work and raise their children with greater flexibility. And for rural communities, it brings in families and contributes to the local economy.
DESTINATION
ISN Preschool Ueda and ISN Uedahara Campus
ABOUT THE TOWN
Ueda city, Nagano
Ueda City in Nagano Prefecture is about 90 minutes from Tokyo by Hokuriku Shinkansen (Bullet train). The city is rich in nature with magnificent mountains and clear rivers,
Ueda City is a castle town in Nagano with a deep history that combines the richness of nature with the ease of living for families raising children.
ABOUT PRESCHOOL
"ISN Preschool Ueda and ISN Uedahara Campus" is a place where children can learn about the world and the choices that are available to them, The "ISN Preschool Ueda-ISN Uedabara Campus" is a school that has introduced the International Baccalaureate
The school offers an international standard English language education based on the International Baccalaureate,
We also provide bold play utilizing the natural environment of Ueda.
We want to expose our children to English and raise them in a rich natural environment.
We are the perfect choice for families who want to raise their children in a rich natural environment,
Ueda City is proud to be a global preschool that is perfect for families who want to raise their children in a rich natural environment.
Ueda City Nursery School Study Abroad accepts families from all over Japan who wish to study abroad at a nursery school.
We invite all children and families to live here for 2 to 3 weeks,
We provide an experience of living in this area where you can feel the rich nature, the expansion of the world, and the connection with the local community.
FEATURE 1
FOR CHILDREN
Dive into English!
ISN's Multicultural Multilingual Education
ISN Preschool Ueda and Uedahara Campus provides English education of international standards by introducing the International Baccalaureate. Under the motto of "The World as an Option for All Children," the school is filled with English not only for daily conversation, but also for decorations in the school according to monthly themes!
The teachers and families who attend the preschool are also from other countries. We value "multiculturalism and multilingualism" and expose our students to a variety of values and diversity.
The preschool is filled with the joy of experiencing the global world in a rich natural setting.
Exciting learning!
International Standard "Learning through Inquiry"
As an affiliate of an International Baccalaureate accredited school, we place great importance on "inquiry-based learning.
Based on themes such as animals and vehicles (Central Idea), students are encouraged to ask questions such as "What kinds of animals and vehicles are there? Are they different now from those in the past? How do they move? The program is designed to deepen children's learning from various perspectives, such as "What kinds of things are there?
The program is based on creative play and practical activities in which children take the initiative. This allows children to develop their own learning abilities in an "exciting" way without restraining themselves.
Rich Nature let your eyes shine
Childcare that makes the most of nature
Ueda City is rich in nature and history. Surrounded by majestic mountains, the scenery is somehow familiar and nostalgic.
The children's eyes light up with enthusiasm when they go out to the local fields to touch the soil and look for insects. The children's eyes light up with enthusiasm when they go out to the local fields to touch the soil and look for insects!
Parents and children can experience together the richness of nature and people in Ueda City.
FEATURE2
FOR PARENTS
For the family Designed for the family Live in a house
Accommodation with everything you need
The accommodation is a house provided by Across Home, which operates mainly in Ueda City, about 5 minutes by car from the nursery. It also serves as a model house and is equipped with all the necessities for daily life and remote work.
With a wooden deck that allows you to become one with nature, and openings that allow you to feel the natural beauty of Ueda City, this residence combines the comfort and functionality of family living with the experience of a trial immigration style of living.
It is only a 10-minute drive from Ueda Station and a 6-minute walk from Terashita Station on the Bessho Line, making it perfect for excursions.
You can spend your stay in a house that is like a home away from home for the whole family.
Comfortable Remote Work Environment
Remote work environment (optional)
For a remote work environment, we recommend the coworking space +519worklodge (formerly Ueda City Technical Training Center), 7 minutes from the inn.
The coworking space's large windows offer a view of lush greenery. (Use of this space is optional.)
When you get tired of working, take a break in the large garden! It will help you get your work done.
Shopping is Fresh Local Foods
Life in Ueda City
For daily shopping, there are direct sales shops and roadside stations that are frequented by local residents.
The roadside station is lined with fresh local vegetables, and many freshly harvested foods are available!
It is a continuous process of excitement and discovery. You will definitely look forward to your daily meals and cooking. Enjoy your meal!
Family Weekend to Enjoy the Great Outdoors
Weekend Activities
Ueda City, surrounded by magnificent nature, has many places to play on weekends! You can try various activities throughout the year.
You can try a variety of activities throughout the year, such as camping, trekking in the satoyama, and kayaking. There are many exciting ways to experience the nature of Ueda with all five senses, such as camping, trekking in the satoyama, kayaking, and more.
In winter, you can extend your trip a bit and try winter sports! Less than an hour's drive will take you to the ski slopes of Sugadaira, where you and your child can play in the snow with all your might.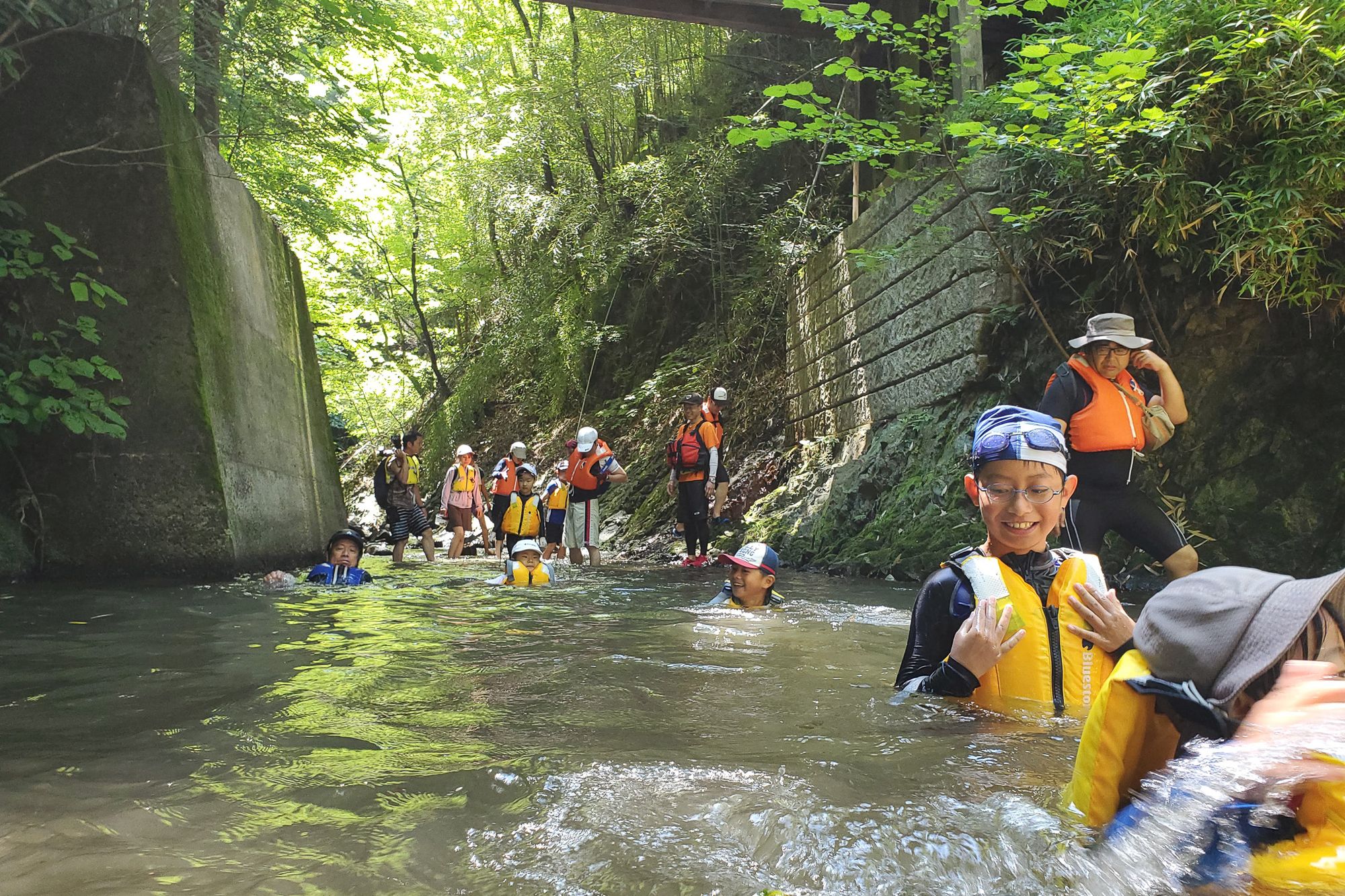 REVIEW
Take a look at the testimonial from a family who said it was the first time they had been exposed to real English.
【Ueda】Han Family's Experience
The preschool was perfect for those who wanted to experience a different culture and international school.
Hello, my name is Han. I live in Tokyo with my husband and 3 year old daughter, and stayed in Ueda City, Nagano for 2 weeks in February 2023 for a Preschool Exchange program. Since we are considering moving to a rural area in the future and wanted to emphasize the educational environment for our children in the new location, the preschool exchange program in Ueda City, Nagano Prefecture, where we could attend an international school, was perfect for us.
This time, we traveled from Tokyo to Ueda City by Shinkansen bullet train and rented a car to live there.
English for the first time in earnest! My daughter was very interested!
She normally attends a licensed nursery school in Tokyo, and this was the first time she was exposed to English in earnest. She was a little nervous at first because of her shyness, but when she saw her friends playing happily around her, she soon forgot her nervousness and quickly got used to it. The teachers communicated with her in Japanese according to her condition, which also made her feel at ease. When we picked up the children on the first day, we were able to see them playing with their classmates, and they told us, "It was fun! and they were able to attend the school in good spirits for the next two weeks.
In addition to playing with rhythm and toys in English, they spent time playing with snow when it piled up, a craft teacher came to visit on Valentine's Day and made chocolates out of clay, and on days when the weather was bad, they spent time playing with various activities such as moving their bodies at the indoor playground nearby called "Kodomo Hiroba Waiwai Ueda".
Although children are usually not the type to show their emotions, they received a lot of stimulation and seemed to absorb a lot of things. From the very first day, he quickly mastered English phrases such as "good morning" and "wash your hands," and in parent-child conversations, "How do you say this in English? I was very happy to see that the students were interested in English on their own in a natural way.
At ISN Preschool Ueda-Uetabaru Campus, all the teachers, including the English teacher, speak Japanese, so I felt that even children who have not been exposed to English at all can attend the school without any worries.
I also thought it was unique that the teachers came from various backgrounds, such as those who used to work for foreign companies in Tokyo, and were able to teach children based on their experience and knowledge. As a working parent, I enjoyed talking with the teachers and making new discoveries. I think this school is perfect for those who want to experience different cultures and an international school!
Staying in a comfortable and spontaneous house
This time we stayed at a model house of Across Home. The house is fully furnished, so I was able to live comfortably from the day I arrived. The communication environment was also well equipped, so we could work as usual at home without having to use a coworking space. We live in an apartment in Tokyo, so it was also great to have an idea of what it would be like to live in a house. We didn't have to worry so much about the noise of living in a house, and our children seemed happy to be able to play freely and spontaneously after they got home.
Both eating out and cooking for oneself are fun in Ueda
For weekday dinners, we took the opportunity to explore restaurants in the neighborhood. My child loves pizza, so a restaurant that serves delicious oven-baked pizza was my favorite. We also used other restaurants such as Yakiniku, Korean cuisine, and an international cuisine restaurant called Kusaki Marino. All the restaurants were very tolerant of families with children, and we were able to enjoy our meals without worrying about our surroundings.
Shopping at the supermarket was also fun! The children were delighted with the wide variety of apple juices, all of which were delicious. Adults also enjoyed choosing from Shinshu wines, local beers, and other alcoholic beverages unique to the area. Recommended supermarkets are Watahan Super Center and Tsuruya. Both are about a 10-minute walk from where you are staying. Watahan Supercenter has large animal objects and decorations in the store, and my children and I had a lot of fun looking for animals while shopping. Tsuruya has become my favorite supermarket because it has a wide variety of original processed products such as juices and jams that are particular about their products. On weekends, we also visited a roadside station to try some local foods.
A weekend of sightseeing, activities, and great fun!
I spent the weekend exploring the city center of Ueda, with a focus on Ueda Castle. I also enjoyed the charms of the prefecture, including a day trip to Bessho Onsen hot springs, and day trips to Karuizawa and Nagano. This was my first visit to Nagano in particular, and the streets from Nagano Station to Zenkoji Temple were more beautiful than I had imagined, and I enjoyed strolling around while eating ice cream and freshly baked oyaki (snacks). At Zenkoji Temple, I also enjoyed extraordinary experiences such as writing ema (votive picture tablet) and offering incense. I will never forget the delicious Shinshu soba (buckwheat noodles) I had in Nagano!
We were also able to participate in the day camp held three times a year at the daycare centers in good timing! Children from four affiliated preschools and their families gathered at Blanche Takayama Ski Resort for a half-day of sledding, snowball fights, relays, gymnastics, and other activities that allowed the families to exercise and play together. The ski resort was also child-friendly, with areas for children. On the way back to the resort, we soaked in the "Jufuku no Yu" one-day hot spring facility located at an altitude of about 1,000 meters to relieve our fatigue. The open-air bath was very spacious, and the menu of locally produced and locally consumed meals using Shinshu ingredients was extensive, so we were able to enjoy our meal as well.
Experiencing the charms of a rural area makes immigration a more positive option
I had a very satisfying study abroad experience. I am glad that my children were able to enjoy English at the international school, that we were able to spend time freely without worrying about our surroundings at our house after returning home, and that we were able to enjoy experiences together as a family that we would not normally be able to have, such as going to many of our favorite onsen (hot springs).
In Ueda City, all the stores and facilities are spacious and open to people with children, and I felt that I would be able to raise my children in a relaxed and comfortable manner. I had always been interested in immigrating to Japan, but I felt that it would be difficult when I thought about work and my child's education. Through this study abroad program, we will be able to attend preschools that make the most of the local characteristics of each location, so we would like to study abroad in other areas as well, and through various experiences, we would like to clarify the ideal place for us to settle and our ideal image of life.

PLAN
WHAT IS INCLUDED
Child care fee at Preschool Weekdays only
Television, refrigerator, rice cooker, washing machine, microwave, tableware, table, sofa, etc.
The Wi-Fi usage within the accommodation facility

REFERENCE PRICE
| Duration | Adult | Child | Price |
| --- | --- | --- | --- |
| 1week | 1 | 1 | JPY418,000~ |
| | 2 | 1 | JPY466,000~ |
| 2weeks | 1 | 1 | JPY574,000~ |
| | 2 | 1 | JPY704,000~ |

REQUIREMENTS
Families with preschool-aged children (1 year old~6 years old)
Cancellation Policy
If you need to cancel your reservation due to your convenience after booking, the following cancellation fees will apply.
| Cancellation Date | Cancellation Fee |
| --- | --- |
| Reservation Date ~ 91 days prior | 5,500 JPY(administrative fee) |
| From 90 days to 61 days prior | 20% of the total fee |
| From 60 days to scheduled date | 40%of the total fee |
| From 30 days to scheduled date | 100% of the total fee |
1 The "Cancellation Date" refers to the date when the customer notifies us of the cancellation by sending an email to our company's email address (

support@hoikuen-ryugaku.zendesk.com

) (excluding weekends and public holidays). *2 The "Reservation Date" refers to the date when the customer submits the reservation request through the booking website.

Other
Interpreter/Guide Accompaniment: None
Minimum Number of Participants: Minimum of one group

MEDIA
We have been featured in the media. Please take a look at the wonderful experiences in Ueda-city, Nagano. (Language: Japanese)
Click here