Yonezawa City, Yamagata - Japan Preschool Exchange
Japan Preschool Exchange
Japan Preschool Exchange is an exchange program that connects your families to Japanese local communities
With our Japan Preschool Exchange, your family has an opportunity to stay in a region in Japan for app. 1-3 weeks while your children attend local preschool. Our program allows your family to immerse in the daily life of Japan experiencing a "living" local life that goes beyond typical tourism.
For your child, this program provides a chance to explore the great outdoors during their early years and grow up in a nurturing environment, both physically and mentally. For parents, it offers a range of possibilities, allowing them to work and raise their children with greater flexibility. And for rural communities, it brings in families and contributes to the local economy.
DESTINATION
ABOUT THE PLACE Yonezawa City, Yamagata
Yonezawa City, with its picturesque Azuma mountain range and the Mogami River, offers a variety of seasonal activities such as river play and trekking in the summer, and skiing and snow activities in the winter. The charm lies in the enjoyment of these diverse recreational opportunities throughout the year. The city is home to distinctive hot springs known as "Yonezawa Hachiyu," delectable gourmet experiences including Yonezawa beef, and numerous historical landmarks, providing attractions that can be enjoyed across generations. Situated at the southernmost tip of the prefecture, Yonezawa serves as the gateway to Yamagata Prefecture, featuring convenient access to major transportation routes, including the Yamagata Shinkansen (Bullet train) and the Tohoku Chuo Expressway.
ABOUT PRESCHOOL Takenoko Preschool
Yonezawa City's Japan Preschool Exchange program is affiliated with the nationwide network of "Aozora Hoiku Takenoko preschool," which is part of the "Mori no Yochien" (Forest Preschool) network. Takenoko serves as the destination for this exchange program. Set against the backdrop of a lush environment overlooking the Mogami River, Takenoko's distinctive approach to childcare revolves around outdoor activities. Emphasizing interaction with nature and others, the program places importance on children growing up in a healthy manner, cherishing their uniqueness as the irreplaceable individuals that they are, and valuing the act of "living as oneself" within the natural and social contexts.
Takenoko Preschool (Japanese site)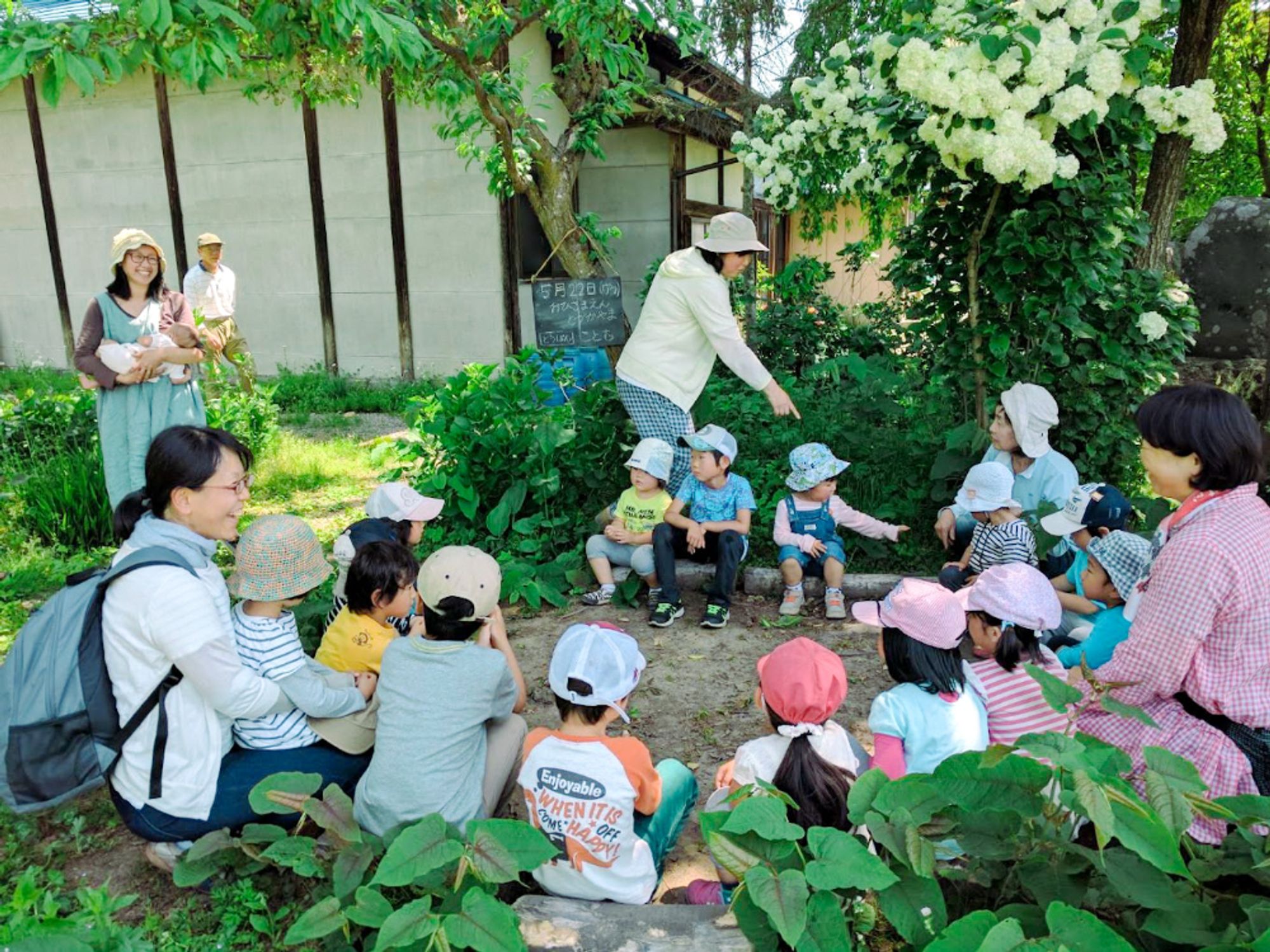 Preschool
Fostering Children's Potential through "AKB" Play
At Takenoko preschool, we are committed to nurturing the potential of children by overseeing "AKB play."
"A"

- "Abunai" is Dangerous in Japanese
"K"

- "Kitanai" is Dirty in Japanese
"B"

- "Bakabakashii" is Silly in Japanese
These initials encapsulate our philosophy, encouraging activities that might be considered risky, messy, or silly. By carefully monitoring and facilitating such play, we aim to unfold the diverse possibilities within each child, fostering their growth in a vibrant and enriching environment.
We carefully observe "AKB-like behavior," actions that adults often tend to discourage, allowing them to unfold right up to the limit. We provide guidance only when necessary—encouraging individuals to think for themselves, express in their own words, and take independent actions. This approach aims to nurture a sense of self-esteem by fostering the belief that "I can do anything by myself" through personal thought, expression, and action.
Thinking, Speaking, and Acting Independently
At Takenoko, we wholeheartedly guarantee the expression of one's feelings and the right to "be oneself." Children are provided ample assurance that they can express their emotions openly, without judgment or deception, and experience acknowledgment for who they are.
We encourage children to listen to others' feelings, express their own emotions, and find common ground. Through numerous trials and errors, they learn to live flexibly and harmoniously with a profound understanding of themselves and others.
Takenoko preschool conducts integrated childcare for children of all ages.
Compassion towards others is cultivated through interactions with younger children, while motivation is nurtured through engagements with older children. We cherish the idea that every day is invaluable, not just reserved for special occasions, and thus, we do not have designated special observation days. With prior notice, you are welcome to visit and observe our activities freely at any time.
Embracing the Forest through the "Mulle Classroom"
The "Mulle Classroom," implemented by Takenoko, is a nature-based educational program originating from Sweden. In the company of the forest fairy "Mulle" (meaning nurturing soil), children explore the wonders and joys of nature through singing songs and engaging in playful activities.
Additionally, in coordination with weekends and extended holidays, special nature classes and agricultural workshops are organized for preschoolers beyond local elementary school students and nursery school children. These sessions provide an opportunity for children who may not have previously acquainted themselves with the forest to do so. Children participating in the nursery school exchange program are also welcome to join (additional fees may apply on-site for this program outside the regular exchange). If the timing aligns, we encourage your participation.
In Yonezawa, you can engage in various hands-on experiences throughout the four seasons.
The surroundings of the nursery feature the Mogami River and Mt. Tozuka, providing a backdrop for daily outdoor activities. Children at Takenoko are unfazed by getting covered in mud – whether it's a rainy, windy, or snowy day, they remain full of energy. They embark on adventures to frozen rivers, build snow forts in the playground, and embrace the "natural state of things" at that moment. Accepting nature as it is, they create new forms of play. The sparkling enthusiasm and focused playfulness in their eyes are truly captivating, leaving adults in awe of their engagement with the activities.
Within the daily play activities, children not only experience the changing seasons of Yonezawa but also participate in special events such as rice planting, harvests, and local Yamagata specialties like the "imo-ni" (simmered taro) gathering when the timing is right.
Moreover, within the premises, there is
"Boken Asoben-cha Land,"
an adventure playground equipped with a staff-made treehouse. This area provides ample space for physical activity beyond the usual outdoor field, allowing children to move their bodies freely and enjoy themselves to the fullest.
No need to worry about transportation – Enjoy a relaxed daily life in a traditional Japanese farmhouse
ABOUT ACCOMMODATION
Located on the same premises as the preschool, "Aozora-kan" is an accommodation facility utilizing a traditional Japanese farmhouse.
Within a 5-minute walk, there are stores selling groceries and daily necessities, and a convenience store is also within a 10-minute walk. If you venture a bit further, within a 20-minute walk, you'll find supermarkets, drugstores, and coworking spaces.
Everything is compactly arranged, ensuring that even parents who may be hesitant about driving can stay with peace of mind. (During the winter, considering the region's heavy snowfall, it is recommended to use a combination of taxis and buses for outings.)
APPLICATION & INQUIRIES
Please feel free to contact us by filling out the form for any inquiries or applications you may have. We are here to assist you.